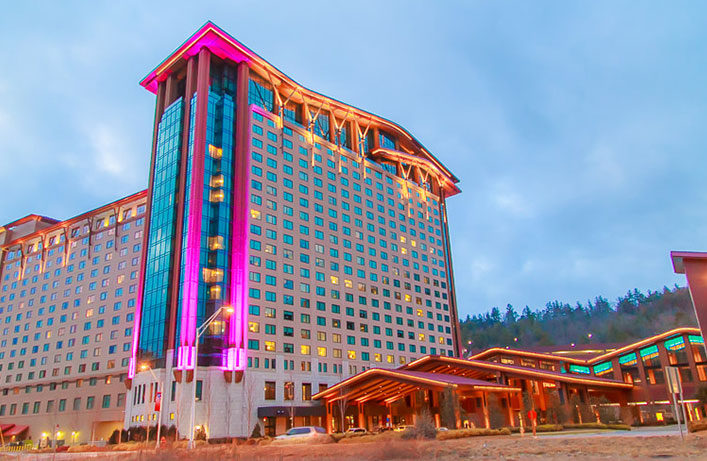 Harrah's Cherokee Casino Resort is a prominent casino and hotel located on the Qualla Boundary in Cherokee, North Carolina. It's owned by the Eastern Band of Cherokee Indians and operated by Caesars Entertainment, a well-known name in the casino industry. The resort is surrounded by the breathtaking scenery of the Great Smoky Mountains, providing a serene and beautiful backdrop for your stay. You can explore the sweeping mountain ranges and lush valleys, or take advantage of the first-class resort amenities.
Casino: The casino at Harrah's Cherokee is substantial, offering a wide variety of games. As of my knowledge cutoff in September 2021, the casino boasts over 150,000 square feet of gaming space, which includes a large number of slot machines, video poker, and digital blackjack. Traditional table games are also available, including Blackjack, Craps, Roulette, Baccarat, and various forms of Poker.
There's also a "Le Fu Men" gaming area, dedicated to Asian table games like Baccarat and Blackjack.
Additionally, they have a high limit gaming area and regularly host poker tournaments in their 20-table, live-action poker room, including Texas Hold 'em, Omaha and 7-Card Stud.
Hotel: The resort features a luxury hotel with over 1,100 rooms, all designed to provide comfortable accommodations for guests. There are various types of rooms and suites available to fit different guest needs. Some rooms come with stunning mountain views.
Amenities: The resort offers a variety of dining options, including a Ruth's Chris Steak House, Selu Garden Café, and the Chefs Stage Buffet, among others.
In terms of entertainment, Harrah's Cherokee Casino Resort hosts concerts and shows in its Event Center, a large venue capable of seating up to 3,000 guests.
For relaxation, visitors can enjoy the Mandara Spa, which offers a range of treatments including massages, facials, and body wraps.
Outdoor Activities: Given its location in the beautiful mountains of western North Carolina, the resort is also close to a number of outdoor activities. This includes access to golf courses and opportunities for hiking, fishing, and whitewater rafting. Visit the Sequoyah National Golf Club for a round or two.
The resort also features the Ultrastar Multi-tainment Center for additional entertainment options. And for those who love to swim or sunbathe, there's a pool area as well.
The Poker Room at the Harrah's Cherokee Casino
The World Series of Poker – Poker Room at Harrah's Cherokee Casino Resort offers an exciting poker experience with 32 tables and daily tournaments. The poker room is adjacent to the sportsbook and is set off from the rest of the casino. It's well-designed with high ceilings, well-spaced tables, and TVs on the large columns. The poker tables have auto-shufflers, padded rails, drink cups, and USB ports. The chairs are simple, without wheels or adjustability, but they are decently padded and comfortable.
Here are the details of their daily Texas Hold'em tournaments:
Monday to Thursday at 7 PM with a fee of $140
Monday to Thursday at 10 PM with a fee of $80
Friday at 8 PM with a fee of $250
Sunday at 2 PM with a fee of $250
Registration for these tournaments begins 4 hours prior to the start at the poker room cash cage. Please note that daily tournaments are usually suspended during larger events such as the $80K Holiday High Hands Giveaway.
They also host a WSOP Circuit Event in August.
If you're planning to visit, you can get on the waitlist for your preferred games up to 90 minutes in advance. The waitlist is available from Monday to Friday from 10 AM to 6 AM and on Saturday and Sunday from 12 AM to 12 AM.
Cash play was very active, with 12-15 cash tables active much of the time, mostly consisting of $1/$2 No Limit.
The poker room also features a Bad Beat Jackpot. To qualify, certain requirements must be met, such as the pot must be $20 or greater, five or more players are dealt into the hand, and both the top-ranked and second-ranked hands must play until the end of the hand. The jackpot is divided among the players with the qualifying hands and other players at the table who received cards at the beginning of the hand.
For more information or to make a reservation, you can visit their website or call them at 828-497-7777.
Find the Latest News & Events at the Harrah's Cherokee Casino Website
Harrah's Cherokee Casino Poker Room
Average rating:
0 reviews