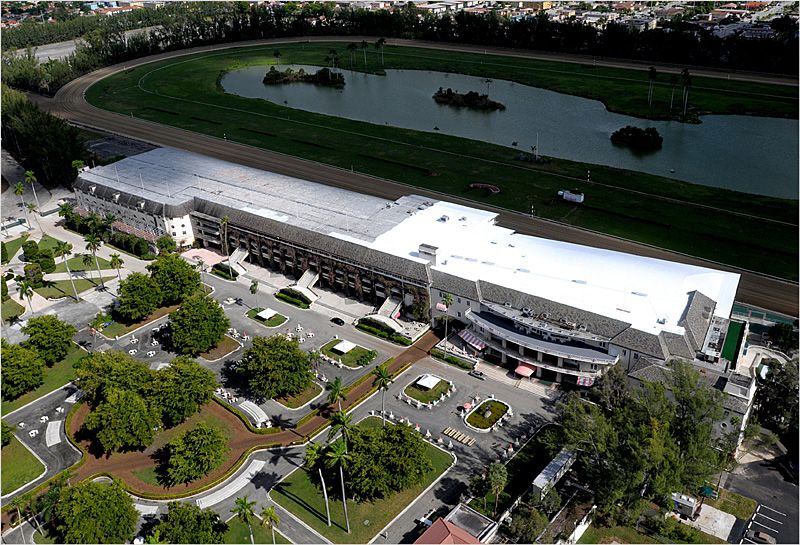 The Hialeah Park Race Track, also known as the Hialeah Race Track or Hialeah Park, is a historic racetrack located in Hialeah, Florida. The site spans 40 square blocks in the central-east side of Hialeah, from Palm Avenue to East 4th Avenue and from East 22nd Street to East 32nd Street. It was added to the U.S. National Register of Historic Places on March 5, 1979, with another listing added in 1988. The track is accessible via the Miami Metrorail at the Hialeah Station.
The Hialeah Park Race Track is one of the oldest recreational facilities in southern Florida. It was initially opened in 1922 by aviation pioneer Glenn Curtiss and his partner, James H. Bright. Originally, it began as a greyhound racing track but transitioned to Thoroughbred horse racing in 1925. The facility underwent significant damage in the 1926 hurricane and was sold in 1930 to Joseph E. Widener. With the involvement of Kentucky horseman Col. Edward R. Bradley, the park underwent major renovations, including the construction of a new grandstand, clubhouse, landscaped gardens, and a lake stocked with flamingos. The park became renowned for its beauty and was officially designated a sanctuary for the American Flamingo by the Audubon Society.
In 2013, a new casino was opened at Hialeah Park, and the venue continues to host winter Quarter Horse racing meets.
Hialeah Park Casino is an integral part of the historic Hialeah Park, known as "The World's Most Beautiful Horse Race Course". The casino is set amidst 200 acres of lush landscape and historic architecture, making it a unique and iconic location in South Florida. Here are some key features of the Hialeah Park Casino:
Casino Offerings: The casino boasts a wide range of slot machines, including the latest and most popular ones on the market. Additionally, it offers electronic versions of classic table games like Blackjack and Roulette. The design of the casino emphasizes customer comfort, with wide open spaces and a unique ambiance. One of its standout features is the windows that provide a view of the horse track, the meticulously maintained gardens, and the fountains.
Dining: Hialeah Park Casino offers a range of dining options. All the food is prepared using the finest ingredients, ensuring a delightful culinary experience with every bite. Patrons can also enjoy amazing cocktails and beers, whether they're at the slot machine, poker table, or dining table.
Racing: Apart from the casino games, Hialeah Park also offers year-round simulcasting from various locations around the country. This allows patrons to enjoy races from different parts of the U.S. in the comfort of the casino's Champions simulcasting room.
Promotions and Events: The casino regularly hosts promotions, giveaways, and events to enhance the gaming experience for its visitors.
The Hialeah Park Casino operates from Monday to Thursday between 9:00 am to 4:00 am. On Fridays, it opens at 9 am and remains open until Monday 4 am.
The Poker Room at Hialeah Park
The Hialeah Park Casino Poker Room is a premier destination for poker enthusiasts in South Florida. Here are some of its key features:
Variety of Games: The poker room offers a range of popular poker games, including Texas Hold'em, 7 Card Stud, and Omaha Hi-Lo. The poker room offers 7-handed tables for No Limit Holdem with a minimum buy-in of $50.
Modern Amenities: The poker room is situated on the renovated second floor of the casino. It also features a veranda for players who wish to take a quick smoke break. The poker room is equipped with the most up-to-date technology, ensuring a seamless gaming experience for players.
Exclusive Waiting Area: Players can relax and wait for their turn in an exclusive waiting area that features a full bar. This area is designed to provide maximum comfort to the players.
Outdoor Terrace: For those who enjoy a good cigar, the poker room has an exquisite outdoor terrace, allowing players to take a break and enjoy the outdoors.
Additional Services: The poker room offers complimentary beverage service to players. There's also a full-service cashier cage for all transactional needs.
Entertainment: Over 50 large screen television monitors are installed in the poker room, allowing players to watch major sporting events and wager on thoroughbred racing from tracks nationwide.
Location: The Hialeah Park Casino Poker Room is strategically located, making it easily accessible. It's just 5 minutes from Miami International Airport and 10 minutes from several key locations like South Beach, Downtown Miami, Coral Gables, and Doral.
Operating Hours: The poker room operates from Sunday to Thursday between 9:00 am to 3:00 am and on Fridays & Saturdays from 9:00 am to 4:00 am.
Find the Latest News & Events at the Seminole Hard Rock Hotel & Casino Website
Hialeah Park Race Track, Casino, & Poker Room
Average rating:
0 reviews