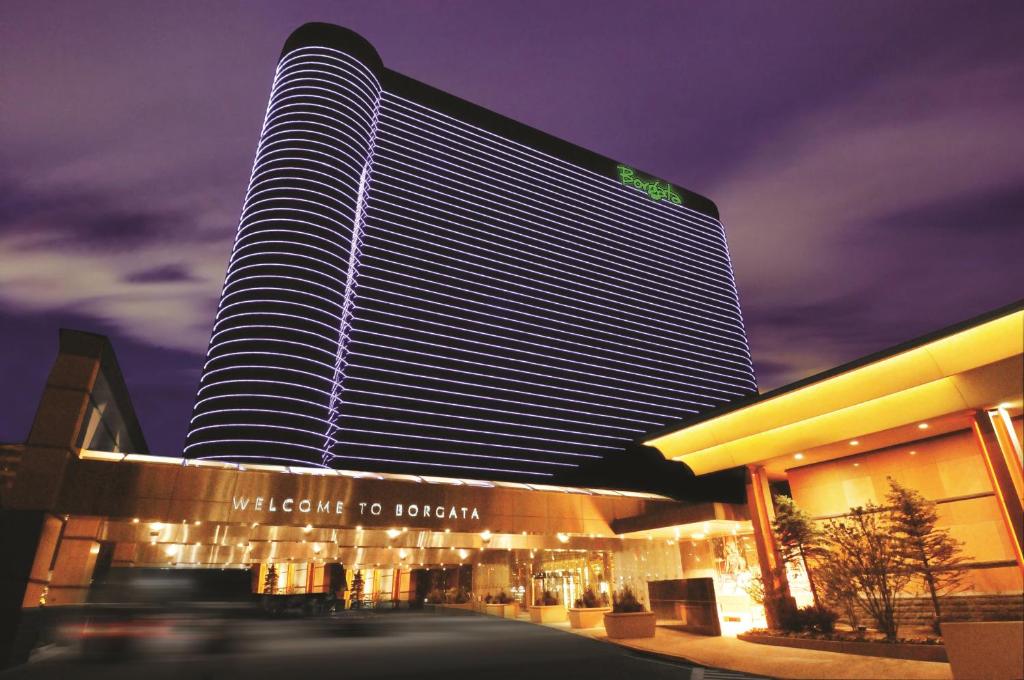 The Borgata Hotel Casino & Spa is a luxurious resort and casino located in Atlantic City, New Jersey.
Casino: The Borgata Casino is one of the premier gambling destinations on the East Coast of the United States. It features a large gaming floor offering a wide range of casino games. Visitors can enjoy thousands of slot machines, video poker, and electronic table games, as well as traditional table games like blackjack, roulette, craps, baccarat, and poker.
Poker Room: The Borgata Poker Room is a highlight of the casino, known for its high-quality poker offerings. It is a popular destination for poker players, both recreational and professional. The poker room features a variety of poker games and tournaments, including Texas Hold'em, Omaha, Seven-Card Stud, and more. It hosts daily cash games and regular poker tournaments with various buy-ins and prize pools.
Hotel Accommodations: The Borgata Hotel offers luxurious accommodations for guests. The hotel features well-appointed rooms and suites designed for comfort and relaxation. Guests can enjoy amenities such as spacious beds, modern furnishings, flat-screen TVs, high-speed internet access, and stunning views of the city or ocean.
Dining Options: The Borgata boasts an impressive array of dining establishments, ranging from fine dining restaurants to casual eateries. Guests can choose from a diverse range of cuisines and culinary experiences, including seafood, Italian, Asian, steakhouse, and more. The resort also features several bars and lounges for drinks and entertainment.
Nightlife and Entertainment: The Borgata offers a vibrant nightlife scene with several entertainment options. It hosts live concerts and performances by renowned musicians and bands at venues like the Borgata Event Center and The Music Box. The resort is also home to Premier Nightclub, a popular nightclub offering a high-energy atmosphere and live DJ performances.
Spa and Wellness: The Borgata Spa is a luxurious facility where guests can indulge in relaxation and rejuvenation. It offers a variety of spa treatments, massages, facials, and wellness services. The spa features tranquil lounges, steam rooms, saunas, and an indoor pool for ultimate relaxation.
Retail Shopping: The resort has a selection of retail shops and boutiques where guests can shop for designer clothing, accessories, jewelry, and other items.
Other Amenities: The Borgata offers additional amenities to enhance the guest experience. These include a fitness center, outdoor pool, business center, and free Wi-Fi throughout the property.
Events and Conferences: The resort has extensive event and conference spaces, making it a popular choice for weddings, business meetings, conventions, and other special occasions. The venue offers customizable event packages and professional event planning services.
Player Rewards: The Borgata offers a player rewards program called M life Rewards. By participating in casino games and amenities, guests can earn points that can be redeemed for various benefits, including discounts on accommodations, dining, spa services, and more.
The Poker Room at the Borgata Casino
The Borgata Casino's Poker Room is recognized as the East Coast's premier Poker Room. This poker room offers a variety of games including Hold'Em, Stud, Omaha, and many variations of Poker. It's a place where good cards, lucky seats, and high hands bring excitement to every player.
There are a few notable features and promotions in the Borgata Poker Room:
MGM Rewards Points: The process of receiving these points for poker play is temporarily changing. Players are required to visit the shift manager podium in the poker room at the end of their session to have the earned points added to their account.
$20,000 Golden Ticket Giveaway: This is a special event running from May 27 to September 2. Every day, one lucky player will draw the Golden Ticket and have a chance to win $20,000. Additional $20,000 Bonus Grand Prizes are added every third Friday. High Hands are paid every 30 minutes with varying amounts depending on the day and time, and there are lucky seats drawn every 10 minutes after 10 PM until the Golden Ticket is drawn.
Retro Rebuy: This is a commemorative event held on July 1, marking the first tournament event offered at Borgata Poker. The event has a starting stack of 10,000 and a guaranteed $20,000 prize, with only 400 seats available.
Bad Beat Jackpot: If you lose any qualifying pot with quad tens or better, you'll take home 40% of the jackpot. The winning hand gets 20% and the remaining 40% goes to other players dealt into the hand. The current Bad Beat Jackpot for quad 10+ is $50,000.
Poker Tournaments: Various tournaments are offered with different buy-ins and structures, such as the Big Stack NLH (RE) and Super Stack NLH (RE).
Find the Latest News & Events at the Borgata Casino Website
Borgata Casino Poker Room
Average rating:
0 reviews