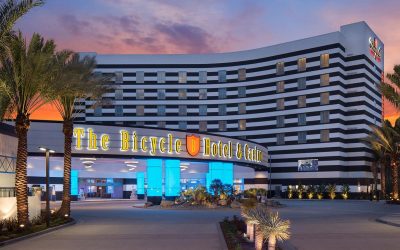 The Bicycle Casino is a favorite among both local poker players and visitors to the Los Angeles area. The Bike offers a wide selection of games, tournaments, and cash games in a spacious and professional setting.
Plan a Tour of the Top California Poker Rooms!
Play at all the Best California Cardrooms!
California is home to several top-notch poker rooms that attract players from all over the world. Plan your California poker tour and try something like this:
Los Angeles Area
Fly into LAX and head directly over to the Commerce Casino! Commerce Casino is about 23 miles away from the airport and will take you about an hour to get there, depending on LA traffic of course! Commerce Casino has its own hotel so plan on staying there for a few days.
Spend the evening at Commerce Casino, which is one of the largest poker rooms in the world. Enjoy the wide variety of poker games and tournaments available.
On day 2, check out the daily tournament schedule and enjoy a full day of poker action. In the evening, head to Los Angeles, located approximately 8 miles away from Commerce. Explore popular attractions such as the Hollywood Walk of Fame, Griffith Observatory, or Universal Studios.
Enjoy dinner at one of Los Angeles' renowned restaurants. Some recommendations include:
Providence: A Michelin-starred seafood restaurant with a focus on sustainable and seasonal ingredients.
Bestia: A trendy Italian restaurant known for its house-made charcuterie and pasta dishes.
République: A French-inspired eatery housed in a stunning historic building, offering delicious pastries and savory dishes.
On day 3, check out the Bicycle Casino. From the Commerce Casino, it's a short 12 minute drive to the Bicycle Casino which is only 3.9 miles away. Enter some tournaments and compare the competition to Commerce. If you have it in you, in the afternoon, drive to Long Beach, a vibrant coastal city with various attractions.
Visit the Queen Mary, a historic ocean liner turned hotel and museum. Explore its exhibits and enjoy the stunning views of the harbor.
For dinner, try one of the fantastic restaurants in Long Beach:
Michael's on Naples: A top-notch Italian restaurant known for its handmade pasta and extensive wine list.
555 East: A popular steakhouse offering prime cuts of meat and seafood dishes.
Roe Seafood: A modern seafood restaurant with a focus on sustainability and innovative flavors.
On day 4, dedicate another day playing poker at a third venue. Visit the Hustler Casino – touted as Los Angeles' only "Luxury Casino". While there are less poker tables available here, it is a classy joint with really good food. They will serve you at the poker table while you play! The Hustler Casino is about 17 miles away from Commerce and about a 30 minute drive away.
San Diego Area
While Los Angeles is one of the best hubs for playing live poker, you could check out the casinos in San Diego next. San Diego is about a 2.5 hour drive south and there you can check out the Seven Mile Casino, Jamul Casino, and Ocean's Eleven Casino. Ocean's Eleven has a lively poker scene and hosts a range of tournaments.
Take breaks to explore the beautiful city of San Diego. Visit attractions like Balboa Park, the San Diego Zoo, or Coronado Island.
Enjoy dinner at one of San Diego's excellent restaurants:
Addison: A luxurious fine dining restaurant offering an exquisite tasting menu and an extensive wine list.
Juniper & Ivy: A trendy spot known for its creative New American cuisine and vibrant atmosphere.
Cucina Urbana: A rustic Italian eatery featuring homemade pasta and wood-fired pizza.
San Francisco Bay Area
There are also good cardrooms in the San Francisco Bay Area. The Bay 101 Casino in San Jose has exciting poker offerings at its popular cardroom as well as daily tournaments. The San Pablo Lytton Casino in the neighboring city of San Pablo. And then visit the Oaks Card Club in Emeryville. This cardroom has a long history and offers a range of poker games in a cozy and welcoming environment.