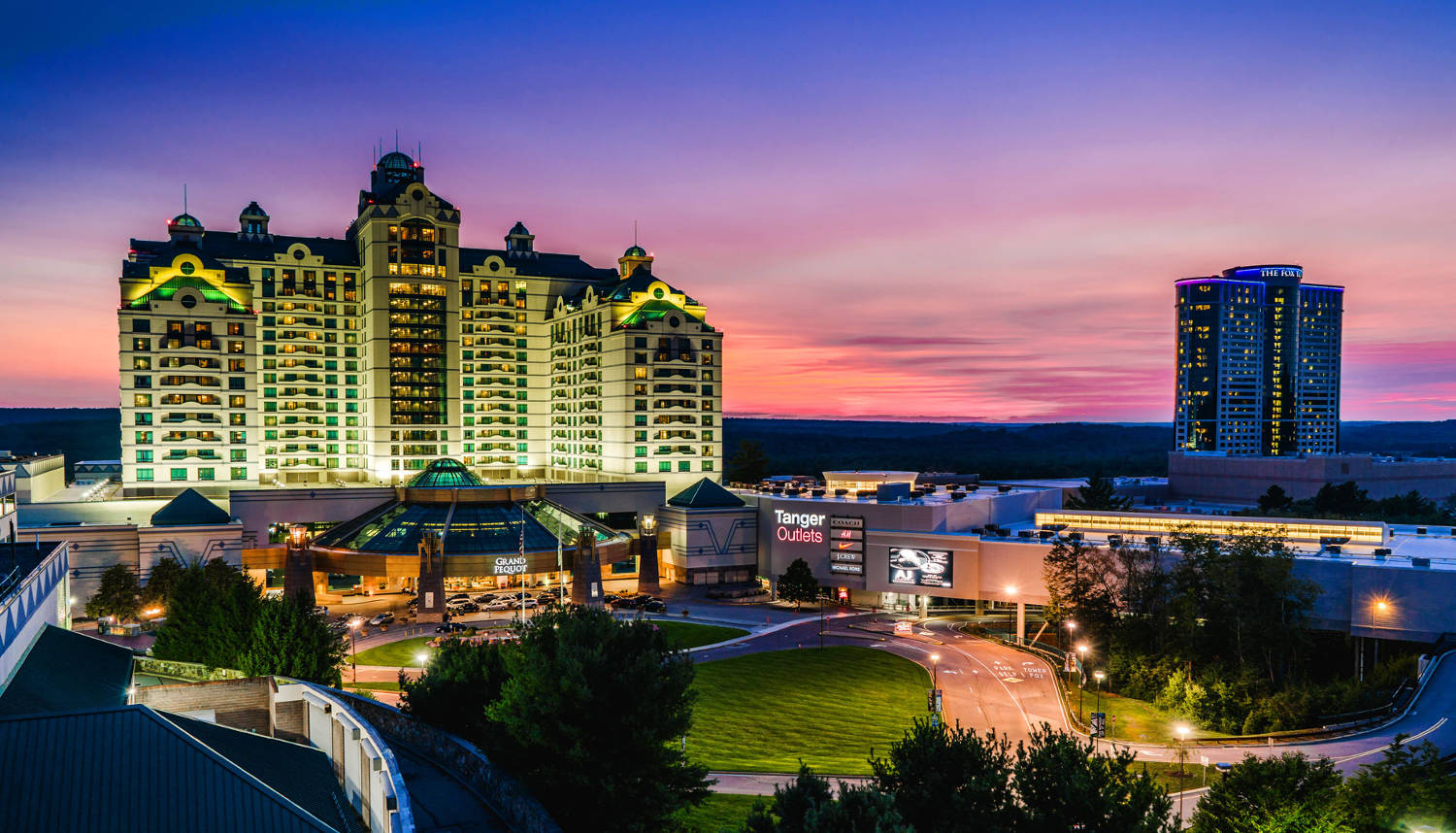 Foxwoods Resort Casino is a prominent hotel and casino complex located in Mashantucket, Connecticut, in the United States.
Casino: Foxwoods is one of the largest casinos in the world, offering a vast gaming floor with a wide range of casino games. The casino features thousands of slot machines, video poker, and electronic table games, as well as a variety of traditional table games such as blackjack, roulette, craps, baccarat, and poker.
Poker Room: The Foxwoods Poker Room is a major attraction within the casino. It is known for hosting various poker tournaments and cash games. The poker room offers a range of poker variations, including Texas Hold'em, Omaha, Seven-Card Stud, and more. It provides a comfortable and professional environment for poker enthusiasts.
Resort Accommodations: Foxwoods Resort Casino features several hotel towers, offering a range of accommodations to suit different preferences and budgets. The resort provides luxurious rooms and suites, with amenities such as spa services, fitness centers, swimming pools, and more.
Dining Options: The complex boasts a diverse selection of dining establishments, including fine dining restaurants, casual eateries, bars, cafes, and buffets. Guests can enjoy a variety of cuisines and culinary experiences to suit their tastes.
Entertainment Venues: Foxwoods offers multiple entertainment venues where guests can enjoy live performances, concerts, comedy shows, and other events. These venues include the Grand Theater, the Fox Theater, and the Atrium Lounge, hosting both renowned and emerging artists.
Retail Shopping: The resort features a range of shops and boutiques where guests can indulge in retail therapy. The shops offer a variety of items, including clothing, accessories, jewelry, souvenirs, and more.
Nightlife: Foxwoods Resort Casino provides a vibrant nightlife scene with numerous bars, lounges, and clubs. Guests can enjoy live music, DJs, dancing, and specialty cocktails, creating a lively atmosphere for socializing and entertainment.
Spa and Wellness: The resort offers a luxurious spa called the Norwich Spa at Foxwoods, providing a range of treatments, massages, and wellness services for guests to relax and rejuvenate.
Golf: Foxwoods has its own golf course called Lake of Isles Golf Club, which offers two championship courses designed by renowned architects. Golf enthusiasts can enjoy a round of golf amidst beautiful scenery and well-maintained fairways.
Outdoor Activities: The resort is situated in a scenic area with opportunities for outdoor activities. Guests can explore nearby nature trails, go hiking, fishing, or enjoy other recreational pursuits.
The Poker Room at the Foxwoods Casino
The Poker Room at Foxwoods is one of the largest and most well-known poker rooms on the East Coast of the United States. It offers a spacious and comfortable environment with a significant number of poker tables, providing ample room for various poker games and tournaments.
The poker room has 35 tables. Its operation hours are from 9:00 am to 1:00 am from Sunday to Thursday and from 9:00 am to 4:00 am on Friday and Saturday. The minimum age requirement for entry is 21.
The poker room offers various features such as auto shufflers, cash games, cell reception, check cashing, cocktail service, comps offered, currency exchange, discounted hotel rates, food tableside, jackpots, massage, non-smoking, order food at table, phone in list, nearby restrooms, RV parking, self-serve drink station, televisions, USB chargers, valet parking, and WiFi.
Poker Games: The Poker Room at Foxwoods offers a wide variety of poker games to cater to different player preferences and skill levels. Common games available include Texas Hold'em (including no-limit, limit, and pot-limit), Omaha, Omaha Hi-Lo, Seven-Card Stud, and more. The room may also feature other poker variations based on demand.
Tournaments: The Poker Room at Foxwoods hosts a variety of poker tournaments throughout the year. These tournaments cater to players of all levels and offer different buy-ins, formats, and prize pools. The room is particularly renowned for its major tournament series, including the Foxwoods Poker Classic and the World Poker Finals.
Cash Games: In addition to tournaments, the Poker Room offers a range of cash games to suit different stakes and preferences. No-limit Texas Hold'em cash games are typically available, along with other popular games like Pot-Limit Omaha and Seven-Card Stud. The room also offers a Bad Beat Jackpot promotion, giving players a chance to win a substantial jackpot by losing with a strong hand.
Player Rewards: Foxwoods Casino offers a player rewards program called Foxwoods Rewards. By participating in poker games in the Poker Room, players can earn points that can be redeemed for various benefits, including discounts on dining, accommodations, entertainment, and more. Comps are earned with the Rewards card; points are equivalent to dollars, with 2 points equating to $1. The amount of points earned per hour varies by game, between 1-2 points per hour.
Amenities: The Poker Room provides amenities to enhance the player experience, including tableside food and beverage service, comfortable seating, and large TV screens for game viewing. The casino complex offers a wide range of additional amenities, such as restaurants, bars, entertainment venues, a spa, and a golf course, providing a comprehensive entertainment experience.
Find the Latest News & Events at the Foxwoods Casino Website
Foxwoods Casino Poker Room
Average rating:
0 reviews