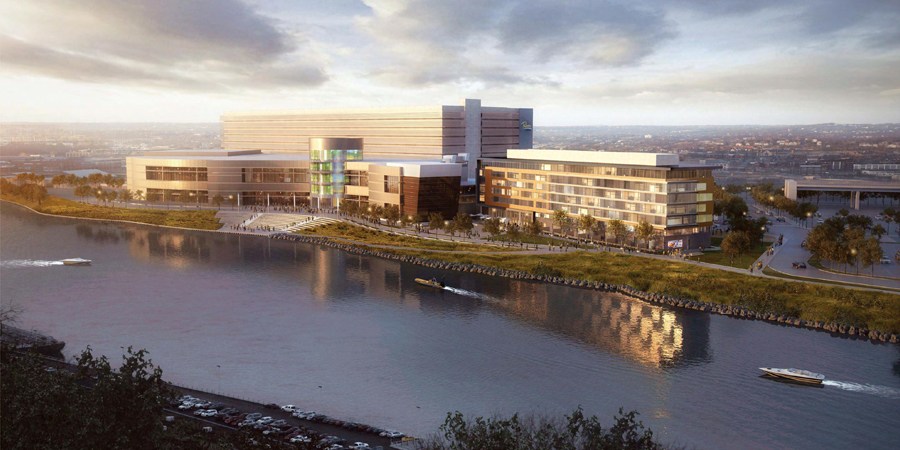 Rivers Casino is a popular entertainment destination in Pittsburgh, Pennsylvania, located on the North Shore along the Ohio River, and adjacent to Heinz Field. Opened in 2009, it is owned by Rush Street Gaming.
Casino: The casino offers a wide variety of games spread over 120,000 square feet of gaming space. This includes over 2,500 slot machines, over 100 table games, a 30-table poker room, and a sportsbook for sports betting.
Popular table games include Blackjack, Craps, Roulette, Baccarat, and various forms of Poker. The Poker Room regularly hosts poker tournaments, including Texas Hold 'em, Omaha, and 7-Card Stud.
Sportsbook: The BetRivers Sportsbook, launched in 2018, is a state-of-the-art sports betting area within the casino. Here, patrons can wager on a wide range of sporting events including football, basketball, hockey, boxing, and more.
Dining and Entertainment: Rivers Casino offers a variety of dining options, including upscale restaurants, casual eateries, and quick bites. Some notable options include Andrew's Steak & Seafood, Wheelhouse Bar & Grill, and the Grand View Buffet.
The casino also hosts concerts and live shows in its Event Center, and there are multiple bars and lounges throughout the venue. They have a lineup of live music every weekend.
Hotel: The Landing Hotel is a luxurious destination located in Schenectady, offering panoramic views of the new Mohawk Harbor. This semi-private hotel is directly connected to the Rivers Casino by a grand entryway, placing guests only steps away from a night of gaming, dining, and New York State's first-ever sports betting lounge, Rivers Sportsbook.
The hotel features spacious king rooms, bay suites with wrap-around balconies, king suites with views of the Mohawk Harbor, and ADA accessible rooms with roll-in showers. It also includes an outside patio, a sun room adjacent to the lobby bar, and a state-of-the-art fitness center featuring LifeFitness equipment.
Community Engagement: Rivers Casino has a reputation for engaging with the local Pittsburgh community, including hosting community events and contributing to local causes and nonprofits.
The Poker Room at the Rivers Casino
The Rivers Casino Pittsburgh Poker Room is a vibrant hub for poker enthusiasts. It's open 24 hours on Saturdays and Sundays, and from 10 AM to 6 AM from Monday to Thursday. On Fridays, it opens at 10 AM and remains open until Monday 6 AM.
The poker room is known for its record-breaking Bad Beat Jackpot of $490,708, which is the highest in US history. Amazingly, quad Aces lost to a Royal Flush!!
At the moment, the poker room offers 1/3 No Limit Texas Hold'em and Higher, and 1/3 Pot Limit Omaha and Higher games.
If you have any questions or need assistance, you can contact the Poker Host at 412-566-4606. You can also download the Bravo Poker Live App for easy access to information about the poker room.
Tables and Games: The poker room at Rivers Casino Pittsburgh features 30 tables, providing ample space for a variety of games and tournaments. The room offers a mix of the most popular poker games, including Texas Hold'em, Omaha, and 7-Card Stud.
Tournaments: The poker room frequently hosts poker tournaments of various sizes, from daily tournaments to larger, special events. These tournaments can cater to players of all skill levels, from novices to seasoned professionals.
Amenities: Rivers Casino strives to provide a comfortable and welcoming environment for poker players. The poker room typically includes multiple large-screen TVs, and food and drink service is available directly at the table. It's worth noting that the casino is non-smoking, which includes the poker room.
Promotions: The poker room often has various promotions and special offers for players. At the time of this writing, the Rivers Casino poker room was offering their Bad Beat Jackpot with a payout of over $614,000 for the Main Bad Beat payout and over $84,000 for the Mini Bad Beat payout. They also have the High Hands award which pays out $200 to the highest hand every hour on Sunday, Monday, and Tuesday between 11am and 3am. On Thursdays, the High Hand promo is paid out every 30 minutes from 11am to 4am!
Remember, it's always a good idea to check the most current information, as specific details about the poker room, including the availability of certain games or tournaments, may change over time. Therefore, always check the latest updates from the Rivers Casino Pittsburgh's official website or contact them directly before planning your visit.
Find the Latest News & Events at the Rivers Casino Website
Rivers Casino Poker Room
Average rating:
0 reviews