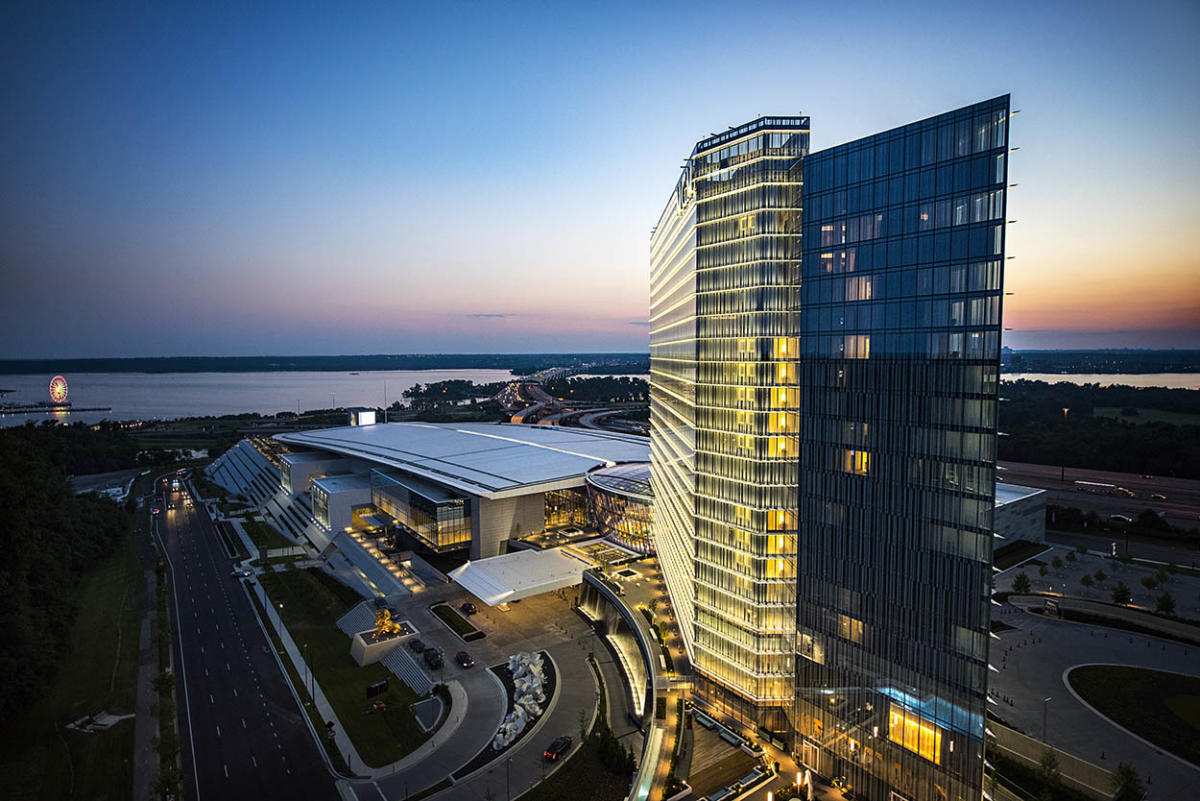 The MGM National Harbor is a resort casino located in Oxon Hill, Maryland, on the eastern shore of the Potomac River, just south of Washington, D.C. The establishment opened its doors on December 8, 2016, following a $1.4 billion investment. It is owned by Vici Properties and operated by MGM Resorts International.
The resort features a 23-story hotel with 308 rooms, a gaming space of 135,000 square feet, retail space, a spa, seven restaurants, a 3,000-seat theater with seven VIP suites, 27,000 square feet of meeting and event space, and a parking garage for 4,800 cars.
The property includes restaurants, shops, and entertainment venues. The diverse food and beverage options are a mix of local and international cuisines, ranging from fine dining to casual fare.
The hotel itself is a major attraction with luxurious rooms and suites that provide panoramic views of the surrounding area, including the Potomac River, Washington D.C., and Old Town Alexandria.
The casino offers a large variety of games including slot machines, poker, blackjack, craps, roulette, and other table games. The resort's theater has been a venue for many top acts, hosting world-renowned musicians, comedians, and theatrical performances.
In terms of architecture, the resort was designed to reflect the geography and history of the area, with a focus on natural light and materials like wood and stone. The design incorporates sustainability features, with a goal of achieving LEED Gold certification. The design of the building is in harmony with the marble used in many of the buildings in Washington DC, and the organization of the casino is along a central axis, similar to the arrangement for the National Mall.
The MGM National Harbor is also home to a significant collection of art, with pieces from local and international artists on display throughout the property. The resort's public spaces feature a permanent collection of art inspired by the Washington metropolitan area and developed in collaboration with Prince George's County Arts and Humanities Council, Atlantic Arts, and RareCulture. The west entrance to the facility features a 25-by-15-foot iron archway composed of "found objects" such as farming tools, children's toys, wheels, and axes designed by Bob Dylan.
The Poker Room at MGM National Harbor
The Poker Room at MGM National Harbor is located on the second level of the casino floor. It houses 45 tables, including an elevated High Limit platform and an exclusive High Limit Salon. The room offers live poker games with a maximum of 8 players per table and provides cash games of varying limits around the clock. They also host daily tournaments throughout the week.
The Poker Room offers a variety of games including No Limit Hold 'em, Pot Limit Omaha, 5 Card Omaha & 5 Card Omaha Hi-Lo, and Limit Hold 'em. Upon request, they can also provide Seven Card Stud and multiple forms of draw poker. For higher limit guests, safety deposit boxes are available.
The Poker Room also hosts special events and promotions. For example, the Potomac Poker Open is set to return from August 16 to 28. You can stay up-to-date with the latest information about tournaments, contests, giveaways, and rule changes by following their updates.
For more information, you can contact the Poker Host at 301.971.5600 or visit the official webpage.
Please note that a photo ID is required for entry and if you are utilizing the smoking patio on Level 2, you should take your ID with you for re-entry.
Find the Latest News & Events at the MGM National Harbor Website
MGM National Harbor Casino Poker Room
Average rating:
0 reviews