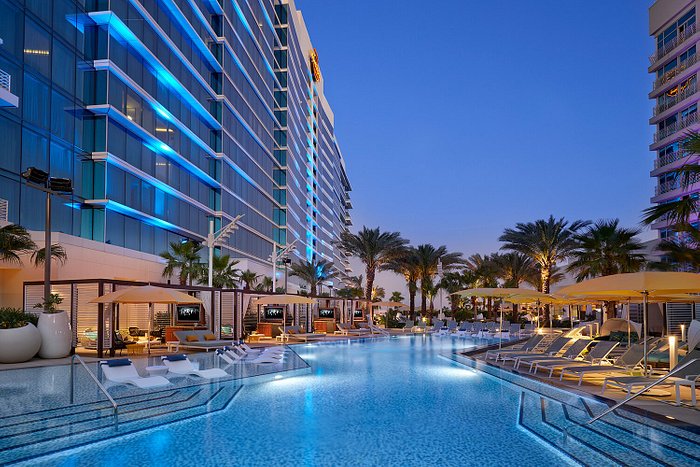 Overview:
The Seminole Hard Rock Hotel & Casino Tampa is a gaming complex and hotel that was inaugurated in 2004. Situated on the Tampa Reservation off of Interstate 4, it's just to the east of Tampa, Florida. The casino spans a vast 190,000 square feet and has undergone multiple expansions since its inception. This 24-hour venue permits indoor smoking. The establishment is adorned with numerous rock and roll memorabilia, including clothing and musical instruments. Rock videos and music are showcased on various screens, with one even being displayed inside a waterfall. Song lyrics are also exhibited on the walls. The venue offers a food court, tour bus parking, and a special membership card known as the "Seminole Wild Card," which allows points earned from gambling to be exchanged for retail discounts, gambling credits, and other promotions.
History:
In 1980, during the construction of a parking garage in downtown Tampa, Indian remains were unearthed. These remains were subsequently relocated to a piece of land east of Tampa, which was granted reservation status to the Seminole Tribe a year later. Leveraging this reservation status, the tribe inaugurated a museum, a smoke shop, and a high-stakes bingo hall by 1982. A Four Points Sheraton Hotel was later established on this land, and slot machines and poker were introduced. In 2000, the Seminoles unveiled plans to revamp the casino into a Hard Rock Casino. The Hard Rock Casino was launched in 2003, followed by the hotel in 2004. Over the years, the Florida Legislature has sanctioned the introduction of new games at the casino, such as Vegas-style slot machines and blackjack. The casino underwent significant expansions in 2007 and 2012, making it the largest in Florida.
Features:
Apart from the casino, the hotel boasts a 12-story tower, a pool, a fitness center, and three parking garages. There's a plethora of dining options, including the renowned Council Oak Steak House, The Fresh Harvest buffet, Rock and Raw sushi bar, The Rise Deli, JuBao Noodle Palace, an international food court, and a spacious Hard Rock Cafe that frequently hosts live performances. For shopping enthusiasts, there are several stores like the Rain Maker tribal gift shop, the Hard Rock Store, and a Seminole Smoke Shop. The casino floor is surrounded by multiple bars, including the L Bar and the Center Bar. Other amenities include a non-smoking game room and a high-rollers club room. The entire complex is adorned with musical memorabilia. In 2019, a 14-story hotel tower was added to the property.
Casino:
The expansive casino, covering over 190,000 square feet, houses more than 5,000 Vegas-style slot machines and over 110 tables. The exterior design combines Indian art and architecture with art deco elements, resulting in a unique interior that pays homage to Seminole art and tribal designs. These designs are seamlessly integrated with the various displays of Rock and Roll history and memorabilia.
Security:
The casino is equipped with state-of-the-art security and surveillance systems. Along with a highly trained staff, these measures ensure the safety of the numerous visitors. The establishment also takes significant precautions to educate visitors about the risks associated with problem gambling.
The Poker Room at the Seminole Hard Rock Casino Tampa
Overview:
The Seminole Hard Rock Hotel & Casino Tampa offers an exhilarating poker experience in a luxurious setting. The poker room is always smoke-free and boasts 46 tables equipped with Wi-Fi for the utmost convenience of the players. For those who are also sports enthusiasts, the poker room features a Sports Bar and 42 television screens, ensuring you don't miss any highlights of your favorite games. If you're feeling peckish between games, there's a poker Snack Bar that serves delicious burgers, salads, sandwiches, light snacks, and sweet treats.
Games and Tournaments:
The casino provides a diverse range of high-stakes, live-action poker games available 24/7. Players can indulge in popular games ranging from Texas Hold'em to Seven-Card Stud and Omaha Hi-Lo. The casino also hosts monthly tournaments and promotions exclusively for poker players, offering both seasoned pros and beginners a chance to test their skills and win big.
Amenities:
Poker Daily Tournaments: A calendar showcasing daily poker tournaments is available for players.
Upcoming Events: Players can view a list of upcoming poker events.
Poker Promotions: Various promotions are available for poker enthusiasts.
Poker Blog: A dedicated blog, "shrtpoker," provides insights and updates about the poker world.
Live Games: Players can log in to Bravo Poker Live to view all live games happening in the poker room.
For more detailed information, you can visit the official Poker page of the Seminole Hard Rock Hotel & Casino Tampa.
Find the Latest News & Events at the Seminole Hard Rock Hotel & Casino Website
Seminole Hard Rock Casino Tampa Poker Room
Average rating:
0 reviews