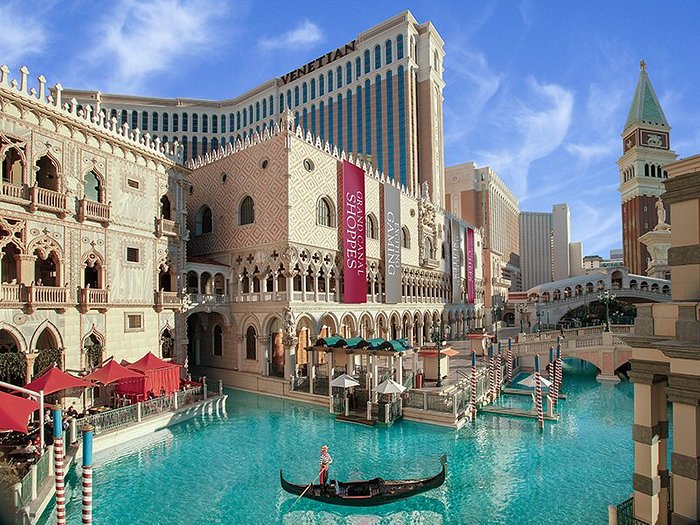 The Venetian opened its doors to the public on May 3, 1999 and is obviously inspired by the city of Venice, Italy. The Venetian resort features a remarkable replica of the iconic Venetian canals. The resort's architecture incorporates Venetian elements, including Renaissance-style buildings, grand archways, and picturesque canals complete with gondolas and gondoliers. The Venetian is owned and operated by Las Vegas Sands Corporation, one of the leading developers and operators of integrated resorts globally.
Hotel: The Venetian offers a total of 4,049 guest rooms and suites. The rooms are spacious and elegantly designed, featuring luxurious furnishings, marble bathrooms, and modern amenities. The resort also includes the Venezia Tower, a separate luxury hotel tower with additional suites and a private pool deck.
Casino: The Venetian's casino is one of the largest on the Las Vegas Strip, covering approximately 120,000 square feet. It offers a wide variety of table games, including blackjack, roulette, craps, baccarat, and poker. The casino also features a vast selection of slot machines and video poker games.
The Grand Canal Shoppes: The Venetian is home to The Grand Canal Shoppes, an upscale shopping mall designed to resemble the streets of Venice. The mall features a wide range of luxury brands, boutiques, and specialty stores, along with restaurants, cafes, and entertainment options.
High-Limit Gaming: For those seeking higher stakes and exclusive gaming experiences, the Venetian Casino provides a designated high-limit area. This area offers elevated betting limits, private gaming rooms, and personalized services for discerning players.
Grazie Loyalty Program: The Venetian Casino operates the Grazie loyalty program, which allows players to earn rewards and benefits based on their gaming activity. Players can accumulate points and redeem them for various perks, including complimentary accommodations, dining, entertainment, and more.
Dining and Entertainment: The Venetian Casino provides a range of dining options within the casino area. From upscale restaurants to casual eateries and quick bites, guests can enjoy a variety of cuisines and culinary experiences. The casino also features several entertainment venues and hosts live performances, concerts, and shows throughout the year. The Venetian Theatre is a venue that showcases resident shows, concerts, and Broadway productions.
The Poker Room at the Venetian Casino
The Venetian Poker Room in Las Vegas is renowned for its exceptional poker experience. Open daily from 9:00 a.m. to 5:00 a.m., it offers nine-handed cash game play in a safe environment.
From May 26 to July 23, 2023, the poker room will be open 24 hours a day to accommodate the demand of the DeepStack Championship Poker Series. During this period, cash games may close at 10:30 a.m. each morning and re-open in the afternoon or evening as tables become available.
The poker room at The Venetian is more than just a game venue. It offers a variety of features such as:
Poker tables featuring games like Limit Hold'em, No Limit Hold'em, Omaha 8 or Better, Pot Limit Omaha, and more with limits starting at $4/$8.
A smoke-free environment.
A comfortable waiting area.
Two charging outlets at each player's seat for electronic devices.
Tableside food service featuring a full menu 24/7 provided by Grand Lux Cafe.
Large screen plasma televisions visible from every table in the room.
Professional and courteous staff.
The Venetian Poker Room is also known for its personalized service, with a staff that knows players on a first-name basis. It's been affirmed by Desert Companion as the top spot for poker in Las Vegas!
Size and Capacity: The Venetian Casino Poker Room is one of the largest and most prestigious poker rooms in Las Vegas. It spans over 10,000 square feet and offers a spacious and well-appointed poker environment.
Tournament Series: The Venetian Casino Poker Room hosts a range of tournaments throughout the year, including daily tournaments and special event series. These tournaments attract both recreational and professional players and offer various buy-ins, formats, and prize pools. The Venetian DeepStack Extravaganza is a popular tournament series held at the poker room.
High-Stakes Action: The Venetian Casino Poker Room is known for hosting high-stakes poker games, catering to professional players and high-rollers. It offers games with significant buy-ins and challenging competition, providing an exciting and intense poker experience.
Comfort and Amenities: The poker room at the Venetian is designed with player comfort in mind. It features comfortable seating, ample space between tables, and a sophisticated ventilation system to ensure a pleasant gaming atmosphere. The room also offers food and beverage service, allowing players to enjoy refreshments while playing.
Venetian Poker Comps: The Venetian Casino Poker Room rewards players through the Venetian Poker Comps program. Players can earn comps based on their poker play, which can be redeemed for various amenities within the Venetian Resort, including accommodations, dining, spa services, and more.
Poker Room Promotions: The poker room offers various promotions and special offers to enhance the player experience. These promotions may include bonus payouts for specific hands, high-hand jackpots, and special tournament packages.
Find the Latest News & Events at the Venetian Website
Venetian Casino Poker Room
Average rating:
0 reviews