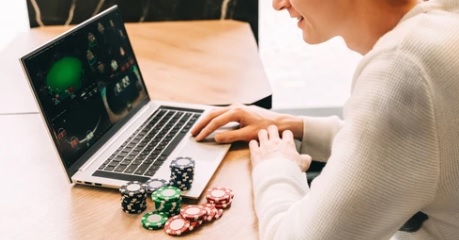 I receive lots of questions by email and in the Poker Forum from beginners asking for poker tips on getting started with with online poker. A lot of these are common questions so I thought I would share a few online poker tips to help players get started with internet poker.
Become Comfortable with the Poker Software
If you are new to online poker, an important poker tip is to be sure to learn the software of the poker site you have chosen to play poker at. It doesn't make sense to start playing poker for real money and make mistakes with the poker software. Every poker site offers free poker games. We recommend installing the free ACR Poker download! Play in these free poker games for at least 10-15 minutes to get used to how to post blinds and make your actions before risking your hard earned dollars. Remember this poker tip.
Take Advantage of Welcome Bonuses
Another important poker tip is that you should be sure to take full advantage of the deposit bonuses at the site. Almost all poker sites offer some type of deposit bonus for new poker players. A common deposit bonus is 20% up to a $100 maximum bonus. Even if you are not willing to risk $500 in playing poker, go ahead and deposit the $500 to receive your $100 bonus. Once you have played enough hands you can withdraw the $500 and put it back in the bank. Of course, you have to be careful not to lose it all when playing poker. Be sure to set an amount that you are willing to lose and do not go over it. If you don't want to lose very much then be sure to play at limits which you are comfortable with and fit your bankroll. For beginners with a bankroll of $500, I would not recommend playing poker at limits greater than $.50-$1. Managing your bankroll properly by playing at the correct limits is one of the best poker tips I can offer as many players make the mistake of playing at limits too high and end up going broke.
The biggest online poker bonus (at the time of this writing) is at ACR Poker with a 100% match up to $2,000.
Give Online Poker 100% of Your Attention
Pay attention to this poker tip! This third online poker tip is talked about a lot in my Internet Texas Hold'em: Winning Strategies from an Internet Pro. Many poker players get distracted in online poker by talking on the telephone, reading emails, playing two tables at once, or watching TV. Let your opponents be the ones who make big mistakes to hurt their poker game because they don't pay attention. A big part of your winnings will come from analyzing the style of play and poker strategies used by your opponents.
Focus on Better Play with Less Hands
Here's an online poker tip focused more on strategy. It is probably the most important poker tip I can suggest in terms of strategy for beginning poker players: don't play many poker hands! The biggest online poker mistake by poker beginners is playing too many poker hands. They watch poker on TV and see these professionals play crazy poker hands and think it is OK to play them. You will be sure to lose if you play too many poker hands. One big advantage you will have over your opponents is that you will play fewer poker hands than your opponents. My website has a great tool to help you in your starting hand play. This tool uses the starting hand guidelines outlined in my book. You have no excuse! Remember this important poker tip :Don't play many poker hands.
Remember that Poker is Fun!
Have fun! Poker is a game which is meant to be fun. To have fun you need to be sure that you are playing with money that you can afford to lose. On the Internet it is possible to play for pennies. With these low-limits you can play poker for a few hours for less than the cost of going to a movie. So even if you lose a little think of it as entertainment. This poker tip is essential to enjoy the game! I see too many people take this game too seriously and end up forgetting this tip and the reason why they played the game in the first place.
Winning is Fun
Finally, an important online poker tip to beginners and everyone else, poker is more fun when you win! Take a little time to study your poker game to improve your results. Be sure to read my book and poker books from other authors, participate in poker forums, and read poker magazines for articles such as this one. One good idea or poker tip can end up saving you lots of money.
Hopefully these poker tips will come in handy and improve your poker playing skills so that you will enjoy the game even more. So remember all of these poker tips, study the game, play within your limits and bankroll, and have fun!
Leave a Review
Getting Started with Online Poker - Tips for Beginners
Average rating:
0 reviews